by Eagleseye on , under Astronomy Blog
On the 10th of September 2012 amateur astronomers reported a flash on Jupiter where a body may have impacted with the planet.
See http://spaceweather.com/ on the 11th of September for more details.
A video of the event has been posted here:
http://www.flickr.com/photos/19299984@N08/7976507568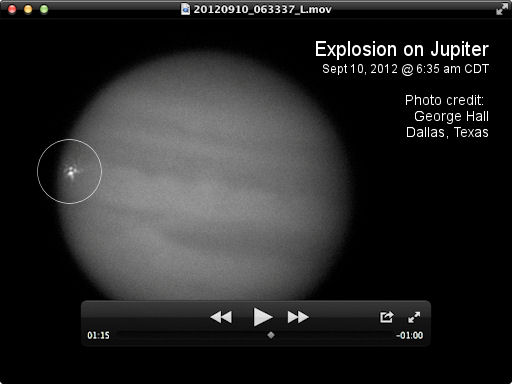 There may possibly be an impact scar visible on the cloud belts over the coming days.
So far no impact scars have yet been recorded by observers seeing the most recent meridian transit.
The times when the impact site will be central on Jupiter's meridian and visible from the UK are shown below:
(UT = GMT. Add an hour for BST).
Predicted times of the site's central-meridian crossing: (times and dates in Universal Time):
Sept. 12, 04:43.
Sept. 13, 00:24.
Sept. 14, 05:55.
Sept. 15, 01:36.
What more reason do you need to set an alarm?
So get yourselves out in the early morning to have a look and see what's happened.
Dave