by Eagleseye on , under Astronomy Blog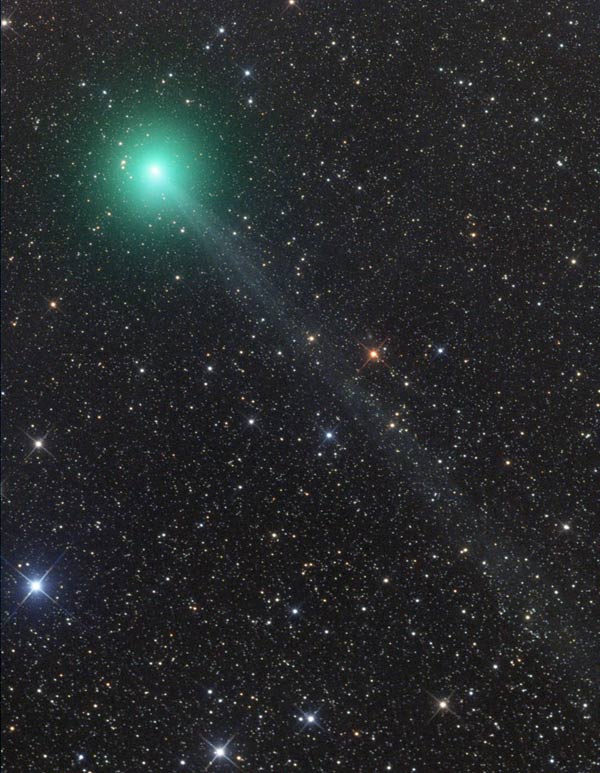 Comet Lovejoy C/2014 Q2 is heading northwards. Currently located in the constellation of Puppis, it is heading towards Columba and Lepus.By the 22nd of the month it should just about be visible from the UK. Currently estimated at just under 6th magnitude, it is almost a naked eye comet already, and should get brighter.
Image of Comet Lovejoy taken by Gerald Rhemann from Austria using a remote control telescope in Namibia.
Click on the maps for a full sized view.
Path of Comet Lovejoy during late December.
As it heads northwards it passes close to the globular cluster M79 in southern Lepus on the 28th of December.
Map of Comet Lovejoy as it passes Globular Cluster M79.
The comet will head northwards passing to the west of Orion the second week of January, brightening all the time. On the 7th of the month the comet is at its closest to the Earth. The comet should be at its brightest for a week either side of this date.
Path of Comet Lovejoy. 2nd – 16th of January.

By the middle of January the comet will be to the west of Taurus, passing through the Bulls legs.
Path of Comet Lovejoy. 10th- 28th of January.
On the 19th of January the comet will be almost exactly due west of The Pleiades Star Cluster.
Path of Comet Lovejoy. 22nd January -29th March.

By the end of January the comet will be to the east of Triangulum, reaching perihelion on the 30th. It's intrinsic brightness should increasing as it recedes from Earth.
It will pass very close to Gamma Andromedae (Alamak) on the 3rd of February.
The comet will have faded somewhat by then as the distance from Earth increases.
The pace of the comet slows down as it heads further north its brightness fading all the time.
It will pass close to Delta Cassiopeia on the 16th of March.
It spends the next couple of months heading northwards, passing close to Polaris on the 30th of April and then takes a long time to pass close to Beta UMi (Kocab).